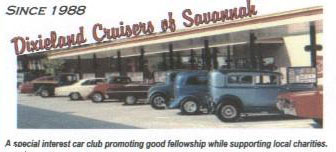 The Dixieland Cruisers were chartered in 1988 as a non-profit organization with twelve original members. Since that date the twelve have grown to over a hundred. Over the years, we have given to numerous charities and have participated in many other organizational activities, which sponsor particular charities.
Our members pay a small nominal amount of $20.00 per family and by joining make a commitment to work hard to support our chosen charities.
Once a year, we have one large event, which yields the money with which we donate. This project is our Yearly Dixieland Cruisers Car Show, which is held in late April. At this time, we are preparing for this, our 16th Annual Car Show. This show welcomes antique cars, hot rods, specialty vehicles and motorcycles.
We are contacting local merchants for donations of money to purchase trophies, or merchandise which we give as door prizes. We also make up ditty bags for each participant, and would appreciate those little trinkets which have the name of your business imprinted on them. We will also be selling raffle tickets on a stainless steel grill to help to build the profits.
We have a large participation from the local community, as well as many who return each year from other Georgia areas, Florida, South Carolina, and Tennessee.
We want you to know the charities which we have supported in past years from the profits of the car shows: Sheriff's Youth Ranch, Alee Temple Crippled Children's Hospital, Muscular Dystrophy, American Diabetes Association, American Heart Association, Breast Cancer Research, Safe Shelter and Runaway Homes in Savannah, Tybee Historical Preservation Society, Salvation Army, Savannah City Mission, Empty Stocking Fund, and a Memorial to Slain 3rd ID Soldiers in Iraq War.
For further information please feel free to contact an officer.
We have a great and active Club. We meet the 2nd Tuesday of every month at Lovezzola's Pizza on Hwy 80 about 1/2 mile West of I-95. Meeting time is 7:00 PM but most people show up early to eat before the meeting.

Please introduce yourself and complete an application. You are encourage to attend events prior to membership.