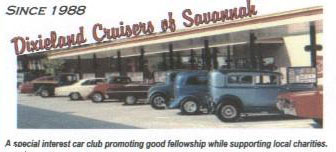 We have a great and active club. We meet the 2nd Tuesday of every month at Lovezzola's Pizza on Hwy 80 about 1/2 mile West of I-95. Meeting time is 7:00 PM, but most people show up early to eat before the meeting.

Please come to a meeting and introduce yourself. If you see us at a car show, please sit and chat prior to joining.
For further information please feel free to contact an officer.